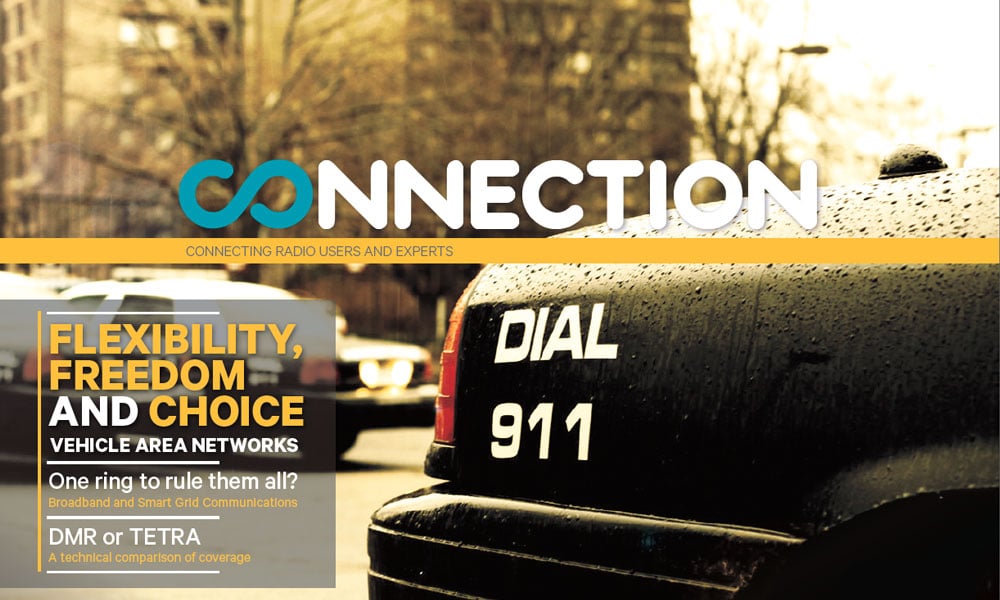 Free Magazine Download
Tait Connection Magazine Issue 4
Featured Articles
VEHICLE AREA NETWORKS:
Flexibility, Freedom & Choice
Instead of looking for a nonexistent super-device that can do everything well, Senior Design Engineer Dave Slaten recommends you consider unifying your critical communications with a Vehicle Area Network.
ONE RING TO RULE THEM ALL?:
Broadband and Smart Grid Communications
A commonly-accepted view about Smart Grid is that it requires a single, high-capacity network to support two-way communications with smart devices and applications. But can a single technology provide this? Tait Principal Consultant Dr Jan Noordhof argues that the answer is 'No'
DMR OR TETRA:
A technical comparison of coverage
John Graham, Solutions Marketing Manager at Tait looks past the hype to investigate these two technologies and compare their coverage performance.
Also in this issue
WHEN AND WHERE TO USE A DUPLEXER
Principal Engineer Ian Graham explores a common question in radio system design: whether to deploy duplexers or to use separate transmit and receive antennas.
10 WAYS TO PROTECT YOUR UTILITIES COMMSNETWORK
Whether you are protecting your critical communications from natural disaster, human error or terrorism, deciding on the level of backup you need is a balancing act between your perceived risk and how much you can afford to spend.
POLICE SECURITY
Technology plays a valuable role in connecting law enforcement agencies with communities. In this article, Louis Quijas, Security Technology Alliance Senior Vice President (Special Ventures), focuses on the role of technology in overcoming the challenges they face.
Other topics include
DOING THE RIGHT THING
GOING DIGITAL: LEARN BY DOING
RETHINKING COMBINED VOICE AND DATA NETWORKS FOR UTILITIES
INTRINSICALLY SAFE
TECHNOLOGY UPGRADE?
BYOD
Each article is full of interesting stories and opinions on the evolving world of critical communications. Subscribe now to never miss an issue.
Download Connection Issue 4