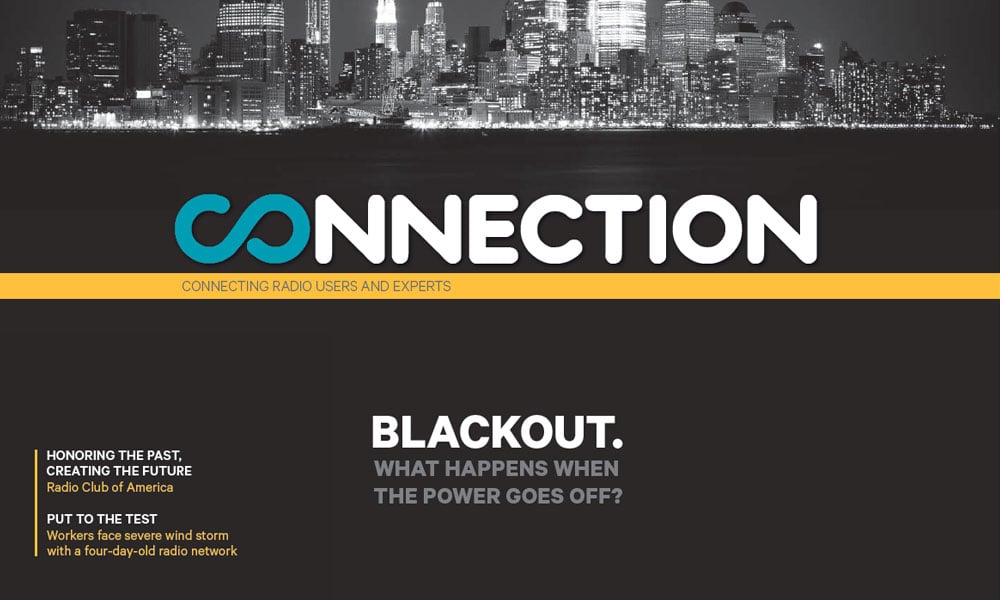 Free Magazine Download
Tait Connection Magazine Issue 5
Featured Articles
BLACKOUT: WHAT HAPPENS WHEN THE POWER GOES OFF?
It powers water purification, waste, food, transportation, security and communication systems. Life in modern society is impossible to imagine without it. This article looks at what happens when the power goes off, scrutinizing the social consequences of electrical power cuts.
PUT TO THE TEST: UTILITIES WORKERS FACE EXTREME WEATHER WITH A FOUR-DAY-OLD RADIO NETWORK.
Just four days after commissioning a Tait DMR Tier 3 system in Canterbury, New Zealand, the region was hit by a huge storm. Electricity Ashburton (EA) Networks Network Manager, Brendon Quinn, tells us how Tait and EA Networks worked together to design and implement the Tait DMR Tier 3 solution and how the storm caused him to rethink his position on trunking.
HONORING THE PAST CREATING THE FUTURE: HOW THE RADIO CLUB OF AMERICA REMAINS RELEVANT A CENTURY ON.
The Radio Club of America has had an enormous impact on the development of wireless communications over more than a century. We recently sat down with RCA board members David Bart and Carol Perry to find out more about the club today.
Also in this issue
HOW IT WORKS: INTRINSICALLY-SAFE PORTABLE RADIOS
In an increasingly safety-conscious environment, operators must protect their workers from the risk of explosion, where there is a known risk of their equipment becoming an ignition source. Strictly regulated and enforced, IS applies wherever volatile or flammable substances, such as fuel, gas, or flammable dusts are present.
DMR FOR PUBLIC SAFETY?: WHERE, AND WHY IT IS WORTH CONSIDERING.
In less than a decade, DMR has achieved a great deal of success with a large number of deployments in business critical communications such as heavy industry and transportation. In some markets, this has given the impression that DMR is an enterprise-level technology, lacking the robustness and advanced features demanded by Public Safety agencies.
OIL AND GAS: WHY OIL AND GAS COMPANIES SHOULD CONSIDER A DIFFERENT STRATEGY FOR THEIR TELECOMMUNICATIONS.
Selecting telecommunications solely based on price is often a lost opportunity for businesses. Setting up telecommunications like Land Mobile Radio (LMR) as a utility may be more expensive initially, but the difference can be measured in more than just cash - it is measured in potential and investment.
TRUCK ROLLS: TCO AND HOW LMR DATA CHANGES THE GAME FOR UTILITIES
Philip Mullins, Tait Solutions Marketing Manager, tells Connection what he sees as the biggest win for Utilities, as they move to digital radio networks.
Other topics include
What's happening with us public safety LMR monitoring?
Regulatory compliance EU and US
Whose job is that?
I.T. vs Radio
Understanding ROIP and VOIP
Each article is full of interesting stories and opinions on the evolving world of critical communications. Subscribe now to never miss an issue.
Download Connection Issue 5