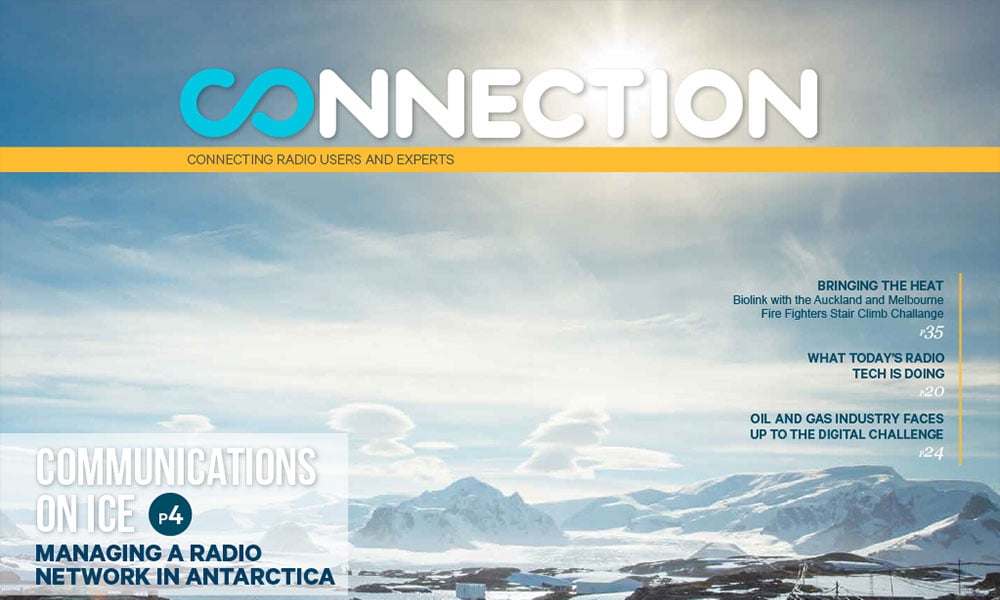 Free Magazine Download
Tait Connection Magazine Issue 6
Featured Articles
COMMUNICATIONS ON ICE
Anthony Hoffman's move to Antarctica was completely unplanned. One day he was Senior Hardware Design Engineer with Tait Communications' custom integration team in Christchurch, the next he had signed up as Communications Engineer at New Zealand's scientific research station in Antarctica.
BRINGING THE HEAT
The greatest motivation for physiological monitoring technology is to prevent occupational loss of life. Tait has integrated physiological monitoring into our critical communications solutions, where firefighters or workers in dangerous environments can be monitored.
WHAT TODAY'S TADIO TECH IS DOING
AS LMR AND IT CONVERGE, THE RESPONSIBILITIES AND SKILLS REQUIRED OF RADIO TECHNICIANS ARE CHANGING FAST. IN THIS EXTRACT FROM P25 BEST PRACTICE GUIDE: MANAGING YOUR P25 NETWORK, WE LOOK AT WHAT TODAY'S TECHS NEED TO BE DOING, TO TAKE CARE OF P25 EQUIPMENT.
Also in this issue
UNRAVELLING THE INTERNET OF THINGS
Every day, we read about the rapid pace of technological change that affects every aspect of our lives. Without doubt, the concept Internet of Things has been receiving a large share of comment, as we look at a world in which everyday objects have network connectivity, sending and receiving data.
OIL AND GAS INDUSTRY FACES UP TO THE DIGITAL CHALLENGE
Oil and gas companies are investigating the concept of a Digital Oil Field, to integrate their business operations using advances in communications technology. Independent consultant Dr Jan Noordhof looks at the challenges these organizations face, and the changes they are adopting.
SUSTAINABLE VALUE THROUGH STANDARDS
This article, from Helmut Koch's presentation at a Tait-sponsored partner seminar looks at standards and why they are still not working the way they should, to serve the communications needs of public safety agencies.
Other topics include
Three Cs of successful partnerships: Comprehension, Collaborationand Communication
FCC reconsider narrowbanding deadline
OTAP Worth the wait
Race against time - 12 questions that can save lives
Analog Simulcast - A reliable, economic upgrade solution
Each article is full of interesting stories and opinions on the evolving world of critical communications. Subscribe now to never miss an issue.
Download Connection Issue 6