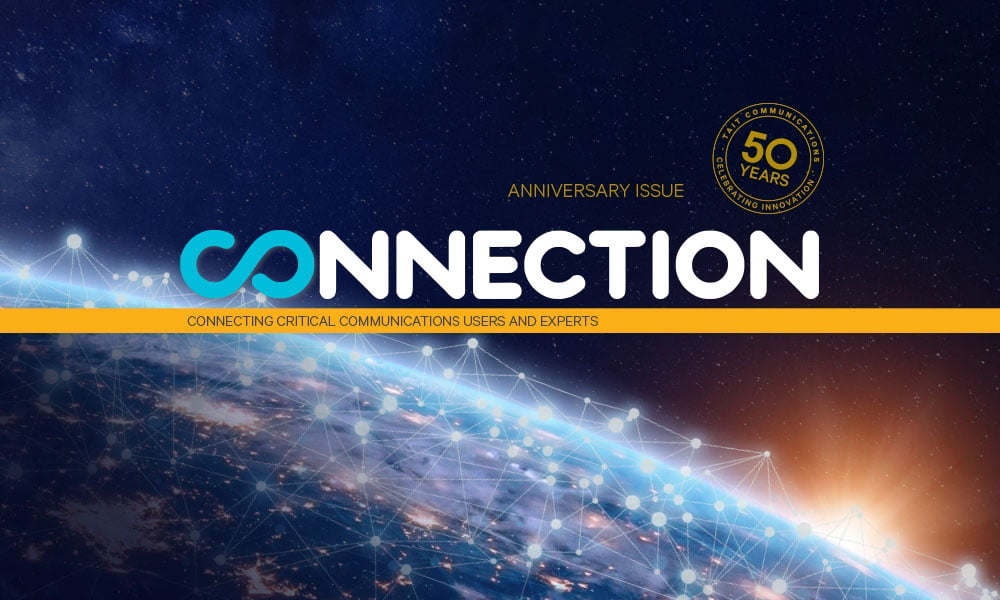 Free Magazine Download
Tait Connection Magazine Issue 10
Featured Articles
CONNECTED CLINICIAN
Geoff Waterhouse, Program Director for Health Infrastructure at NSW Ambulances, has a successful track record of delivering large-scale and complex programs. He is currently overseeing the implementation of a massive telecommunications upgrade program within NSW Ambulance.
RADIO DISPATCH IN THE RESOURCES INDUSTRY
Radio Communications is vital to public facing industries such as public safety, transportation and utilities. Paul Whitfield, Omnitronics Research & Development Manager, takes a look at the importance it has in the less visible
THE FUTURE OF CRITICAL COMMS
What technological disruption does the future hold, what trends are emerging, and what do you need to know to prepare? Katharina Krenn, Global Channel Marketing Manager at Tait Communications, has her eyes on the technology horizon.
Also in this issue
T
HE COMING STORM - The Future of Comms for Utilities
As a young Utilities communications professional in Mississippi some decades ago, Dan Draughn, Director of Market Development, Critical Industries, recalls facing natural disasters – both hurricanes and ice storms – almost every year.
TOUGH CALLS DEDICATION IN THE FACE OF DISASTER
Every day, disasters threaten lives, homes, and property around the world. Wherever disaster strikes, you will find first responders willing and ready to serve. Evan Forester, Marketing Communications Manager for Tait Americas, reflects on recent disasters, the work of first responders and the organizations that support them.
PERSONALIZE YOUR COMMS
RELIABLE. RESILIENT. FUNCTIONAL. EFFICIENT: these are all requirements for the workplace communications tools you need. Product Manager Guy Hooker shows us that just because it's practical doesn't mean it needs to be boring.
Other topics include
WHO'S WATCHING YOUR NETWORK?
DEFINING COVERAGE GOALS: THREE STEPS TO SUCCESS
PRECIOUS CARGO: VEHICLE COMMUNICATIONS
LOCATION LOCATION LOCATION A CLOSER LOOK AT GEOFENCING
WORK SMARTER AND SAFER
Each article is full of interesting stories and opinions on the evolving world of critical communications. Subscribe now to never miss an issue.
Download Connection Issue 10