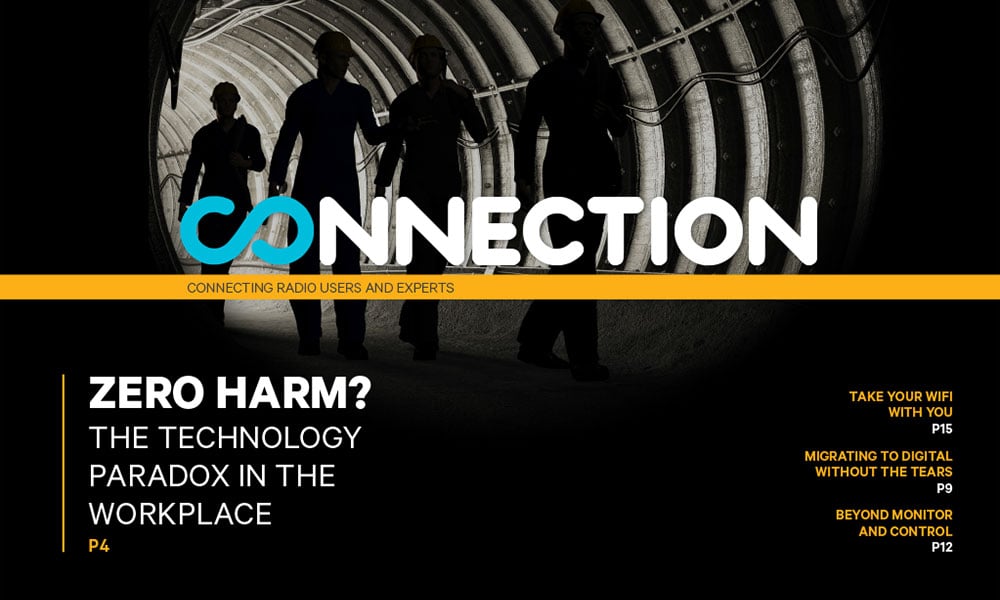 Free Magazine Download
Tait Connection Magazine Issue 8
Featured Articles
ZERO HARM? THE TECHNOLOGY PARADOX IN THE WORKPLACE
It goes without saying that some jobs are riskier than others, and the 21st century has seen governments and regulators focus on mitigating some alarming statistics. In this article, Dr Jan Noordhof looks at who is most at risk, how the stats are trending, and why technology may well raise as many questions as it answers.
BEYOND MONITOR AND CONTROL
No matter where in the world they operate, every utility is confronted by multiple business drivers competing for scarce resources and imposing change on their business environment.
DOING THINGS DIFFERENTLY: HOW ONE ENGINEER LEARNED TO LOVE CHANGE MANAGEMENT
System Designer Barry Crates tells Connection how Change Management is changing the game for technology design engineers.
Also in this issue
TAKE YOUR WIFI WITH YOU
The smart phone revolutionized the way we think about cellular phones, with connectivity and applications.
VERIFYING RADIO NETWORK COVERAGE
Coverage prediction software models the propagation of radio waves, as part of the process of designing radio networks. It takes into account (among other things) distance from transmitters, variations in topography, the curvature of the earth and changes in atmospheric density at altitude. But it is only part of the story.
MIGRATING TO DIGITAL WITHOUT THE TEARS
All over the world, organizations continue to use legacy analog radio networks, despite the business and safety benefits afforded by digital radio. Sometimes, that is because of a perception that migrating is a painful process. It doesn't need to be.
Other topics include
Radio Users Best Practice: A Refresher
Innovation, Evolution, and a Healthy Dose of Pragmatism Influences the Future of LMR
What's Your 20
Which P25 Is Right For Your Organization
Managing Interference on Busy Radio Sites Modified over 2 years ago by Megan Harrison
Each article is full of interesting stories and opinions on the evolving world of critical communications. Subscribe now to never miss an issue.
Download Connection Issue 8